The Beatles sang "All you need is love", and they were right because the search for love is a vital issue for the human being. Once again, technology makes our lives easier and more comfortable, this time by finding a partner through some clicks. With dating applications, people expect to feel a crush with a device in their hands.
So, times have changed. There are a lot of people who use flirting applications for falling in love but also, for meeting new people and seeing what could happen. No room for doubt, Tinder is one of the most popular applications nowadays.
It is very easy to use, and you can strike up conversations with potential partners who are near you. These are reasons why Tinder is now the king of dating applications, and the numbers speak for themselves: 50 million active users all over the world (data from 2015). These users spend on average 77 minutes per day on the application, that is more than Instagram's users, who spend on average 21 minutes per day despite having more active users: 600 million in 2016.
Around its popularity, some risks emerged like information being stolen, scams and even identity theft. Let's see how dating applications like Tinder might be used against you and how to protect yourself from these risks.
This is what they do with your pictures and information
Kaggle is a leading company involved in Big Data. They work in extracting valuable data from analytic models. For example, in February of this year, Kaggle and Google organised a competition for developers. The competitors were challenged to find the way to classify and tag 700,000 Youtube's videos before they were viewed by anyone. The developers worked with the technology of both companies.
When Google acquired Kaggle in March of 2017, the company quickly started to make headlines. Recently, a Kaggle developer, Stuart Colianni, decided to do an experiment about facial recognition and artificial intelligence.
He created a script which allowed him to extract 40,000 profile pictures of Tinder's users settled in The San Francisco Bay. Half of the sample were men and the other half women. The goal of the project was to make it capable of distinguishing between men and women faces. The data packet which Colianni downloaded was called "People of Tinder", and with Kaggle's technology, he developed a wide facial database.
If this was not enough, Colianni decided to publish his script on Github. So, this allowed other people to extract profile pictures of Tinder and also, create a facial database. Problems started at this point.
Tinder requested Kaggle withdrawal the database, as it was a violation of users' privacy on the social network. Still more surprisingly, the code of the script had words like "hoe" and "hoes" which were referring to some female users of Tinder.
Colianni lost his job at Kaggle. He defended himself saying: "The theft of the photos–and that's what it was because it happened in breach of both Tinder's terms of service and without the consent of the subjects–isn't as bad as it could have been. Were it paired with names, biographies and metadata it would have been far more damaging." However, the script is still available on Github, and anyone can use it for any purpose.
It is recommended to become aware that all the information you publish on the Internet is not private anymore. So, if you want to have accounts on social networks, do not upload information and images that you might regret. While it is true that these applications have privacy policies, they do not escape from hackers attacks or developers who exploit their APIs.
You are on Tinder and you don't know it
You may empathise more with Lana Price's case (invented name by the lead of this story, as she didn't want to reveal her real name).
Lana is a woman from Cardiff (Wales). One day, a friend sent her a text message saying that he had seen her on Tinder. At first, she thought that it was a joke, but then she saw a screenshot of the profile which her friend had found on the social network. Here starts the nightmare.
According to The Telegraph, she was horrified when thinking that someone was using her name and personal pictures to impersonate her. Moreover, she was freelance, and her professional profile on Facebook was linked to her personal profile. Being on Tinder might not only affect her business, but also her relationship with her partner.
The relation between Tinder and Facebook is very important. If you want to sign up on Tinder, you need to give credentials to the application from your Facebook profile. After this, your Tinder account will be set with the data which is already posted on your Facebook, such as name, age, pictures, or the pages you follow.
Lana wrote an email to Tinder asking them to delete the profile. At this point, she realised that users are not well protected by these social networks, as there is a long process for deleting a fake account.
According to a Tinder's spokesman, when there is an identity theft, the person affected should contact first with the Facebook's support centre, as the identity thief had access to their Facebook account. Once this step is taken, they can contact Tinder's support team and provide them with some information to verify their identity. In this way, a Facebook user who has supplanted their identity to use on Tinder can delete their account on this social dating network.
This story shows that people who are not on dating applications might experience uncomfortable situations. Unfortunately, identity theft is a common criminal act, and it is difficult to stop, something that mainly affects digital nomads. This case also shows that you need to have secure passwords in your accounts, in this way nobody will get onto them.
And if you match with a stalker?
Women and men use dating applications in a very different way. This study showed that on Tinder men tap like to everybody, as they can match with more people. Then, men sift through the people who choose them. In contrast, women are more selective, as they take their time to look at pictures and read bios of their potentials partners.
The method of matching with everybody is the starting point of a wide number of articles which were published by ethical hackers. They say that Tinder provides the location of the users you have matched. In fact, this dating application shows the distance between your potential partners and you.
Dave Aitel, security computer expert, talks about this on his blog. He explains how you can find people at sensitive places like the NSA or the CIA. To do that, he fakes the location of his device with an application called FakeGPS.
Chema Alonso is a prominent Spanish ethical hacker who has a blog called "Al otro lado del mal". There he explains that Tinder is very useful for controlling people's location, as you can follow your partners to everywhere. For example, a Tinder partner can verify if you are at home or in your office by applying the methods of these ethical hackers. Another experiment shows how to know the location of Tinder's users by applying a trilateration algorithm.
All these happen because every time a user changes their location, the dating application sends its new position by GPS to Tinder's servers. That is why, when you travel to another place, your matches know that you are further away than you were before.
Location data is part of this dating application. You can disable it in the mobile's settings, but every time you want to use Tinder you need to turn it on, then your location will be updated. So, this is not a recommended solution if you do not want to be controlled by anyone. Fortunately, at the moment, no Tinder user had reported that they have been followed by these techniques.
Your soulmate is a bot
Maggie Archer is a 20 year old girl from Missouri (United States). She knows what some people would do for satisfying their curiosity. On Tinder, she proposed a game to her matches. They have to send her 5 dollars by PayPal, so they will see what will happen next.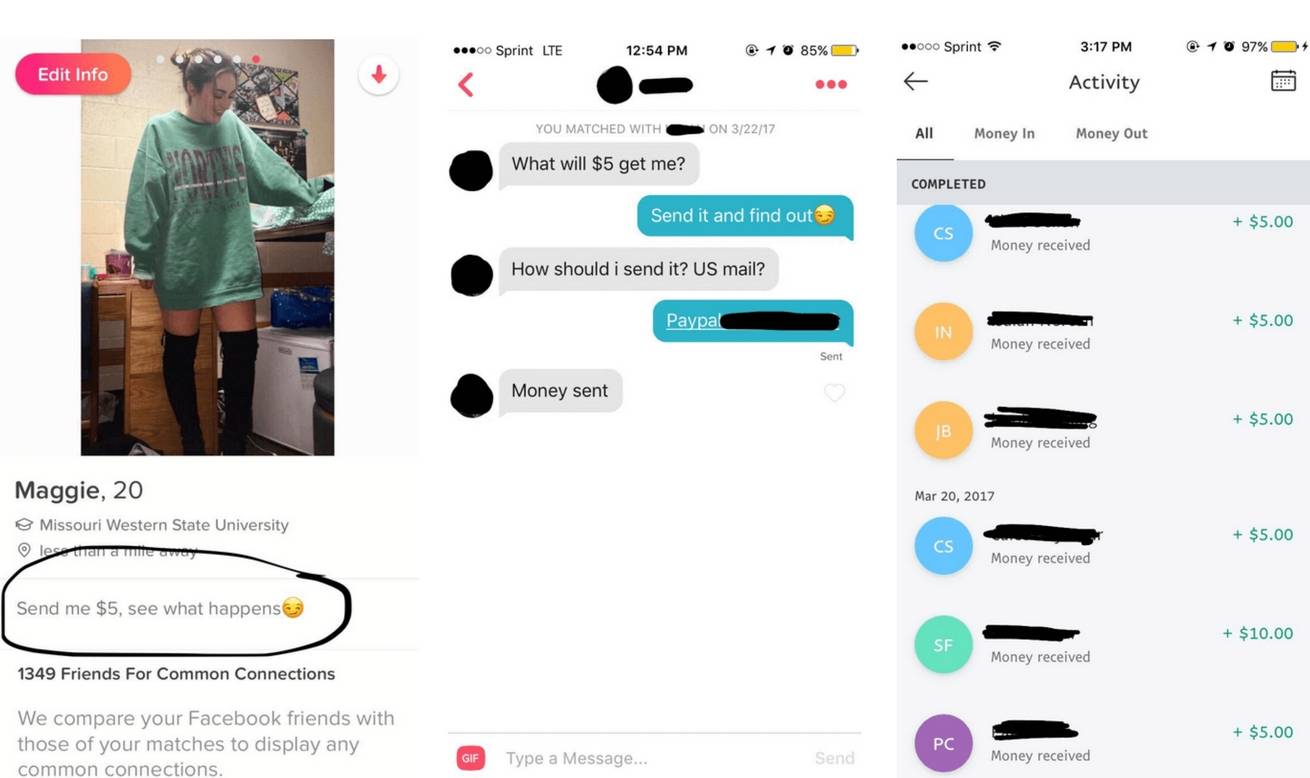 Once she received the money, she tapped unmatch. In other words, she undoes the connection with her partners, and they could not contact her anymore. On Maggie's Twitter account, she has shared some screenshots which show that she had received, at last, 35 dollars.
This story is anecdotal compared with some scams that you might find on dating applications like Tinder. There are bots which skip security procedures, and they can have a conversation with real users. These bots have developed loquacity ability, so users think that they are talking with another human, not with a robot.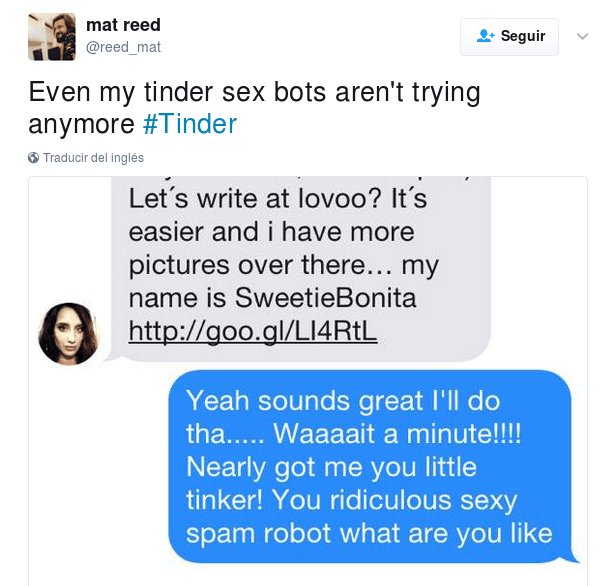 After some words, the bot "invites" its partner to continue the conversation through another message application. So, the bot sends a link, and when the real user clicks on it, they realise that they should pay to download the application.
These kinds of scams are similar to phishing attacks, where users are asked to click on a link which might contain viruses.
There is another type of fraud where the bot gathers personal information about the user. For example, if the real user is in another city or country, the bot develops an emotional link with the user and asks for money for "travelling and meeting in person".
Unfortunately, you need to adopt a distrusting attitude when you are looking for love on dating applications. The majority of these cases would be avoided if users imagine what would happen if the worst comes to the worst.
Mixing business with pleasure is not a good idea
Imagine that you are on Tinder and there appears a guy who says that he is a plumber, but in his spare time, he is a handyman who knows the art of fixing things. That scene is a cliché, but some people (business owners) think that this social network is a good place to promote their services at the same time they look for a date.
Mixing business with pleasure is more usual than you might think. According to The Sydney Morning Herald, local businesses are taking advantage of this social network. One reason could be that people who need professional services, will feel more comfortable when calling someone who gives on Tinder, details of their personal life. However, there are risks involved.
One of the main risks is that you can't verify if the person who announces their services on Tinder is telling the truth. Can you trust a person to fix your electrical installation without references about their work, more than an advertisement on Tinder? At the moment, we know that there are more reliable social networks where you can find professionals and get opinions about their work.
A mess at home is not the only risk of this example. If we go further, think about the techniques of social engineering that could be used on someone who gives personal data on Tinder like where they work. Well, this is the perfect scene to become a victim of a cyberattack.
It might seem that this reasoning comes from a paranoid mind, but the reality is that Tinder is a social network where you can do doxing, which means, gathering information from workers to prepare an attack.
So, should we have fear of giving any kind of information that could make us vulnerable? Well, it is better to not live in fear, but knowing what kind of data is susceptible to be used against us certainly helps. That is something that you will learn through computer security training.
Although your equipment and systems have protection, the human being is the weak link in cybersecurity, so being aware of the importance of your data, among other things, is the only way to be protected.

Latest posts by Marketing
(see all)