There is data that should make us do something because there is no time for reflection. When it comes to cybersecurity, here are some stats:
1.8 million jobs will be unfilled in cybersecurity in 2022.
Today, only 11% of the professionals working in this field worldwide are women.
The problem is obvious: we need more professionals in the field of computer security, but there is also an urgent need to reduce the gender gap between professionals.
Simone de Beauvoir said that the problem of women has always been a problem for men. We wondered what these problems are today and that's why we have gone to two outstanding professionals in the sector who develop their professional career in cybersecurity and who are also the example of how wrong we are with stereotypes.
Sheila A. Berta – IT security analyst at ElevenPaths Argentina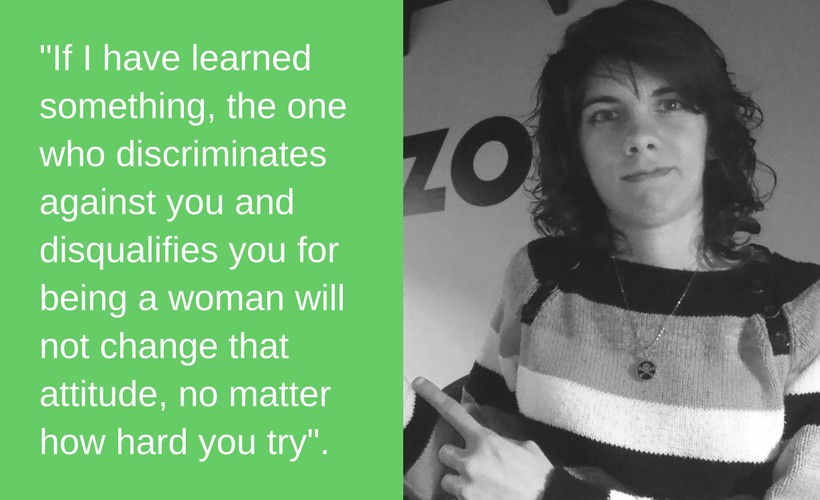 If it is already difficult to break the stereotypes of women working in the field of cybersecurity, Sheila Ayelén Berta has conquered this field in a self-taught way and at only 22 years old. Nearly 20 talks behind her confirm this, as well as having become the youngest speaker of DEFCON USA in 2017.
On her blog, "I've dropped an exploit", Sheila shares her knowledge of hacking and security in an exciting way. In the interview we did, she appeals to women who wish to dedicate themselves to cybersecurity, encouraging them to break through regardless of the prejudices and difficulties that can be encountered along the way.
Open Data Security: In an interview that Chema Alonso did with you (in Spanish), you said that you have had to face situations that you would not have been given if you were a man, for example, isolation when you attended as a listener to some talks. Now that you are a speaker, has the situation changed or do you still feel some type of discrimination for being a woman?
Sheila: Discrimination against women in technology, development and / or information security is there, it is visible and it is difficult to fight. Events are one of the places where you feel that most and, sadly, the more you expose yourself – giving talks and workshops – more consequences come.
What consequences do I mean? Mainly destructive criticism, the more you try to participate and get involved, the more they know you and there will be more men criticizing in a bad way, insulting and disqualifying your work for the simple fact of being a woman, even from the review panel of some conferences . Without losing hope that this situation will change, I changed my attitude: I try to focus on the good things that events brings as a listener and as a speaker.
What are those good things? Learn from the knowledge of others and share yours when you have the opportunity, enjoy the company of those who do not discriminate against you, those who make you feel comfortable and provide you with constructive criticism. Enjoy the experience!
Open Data Security: According to your experience, do you think that women have to prove twice as much as men so that our opinion is taken into account when carrying out technical careers such as cybersecurity?
Sheila: This is a very interesting point, if I have learned something, it is that the one who discriminates against you and disqualifies you for being a woman will not change that attitude. No matter how hard you try to show what you know, they will continue to ignore your opinion.
Therefore, if you are going to make a real effort, those worthwhile will take you into account and respect your opinion regardless of your gender. There are many who will, and if not, you may find yourself surrounded by the wrong people. Have the courage to change and look for those who consider you as an equal!
Open Data Security: When you describe what you do in your work, you show a lot of passion: what would you say to a group of young women who have not considered a career in the world of computer security due to lack of knowledge or lack of programming experience?
Sheila: I do not know if it is possible to transmit a passion, that is something very personal, which comes from deep inside or at least that's how I feel. However, I show my enthusiasm whenever I speak in public, with the hope of awakening interest in this area in other women.
I am sure that more than one who have heard me will have felt at least a little curiosity, I do not think I have done enough for them to consider a career in this world, but this is my little contribution. Is it worthwhile to dedicate to this? Of course I do! ?
Silvia Barrera – Inspector of the National Police in Cybersecurity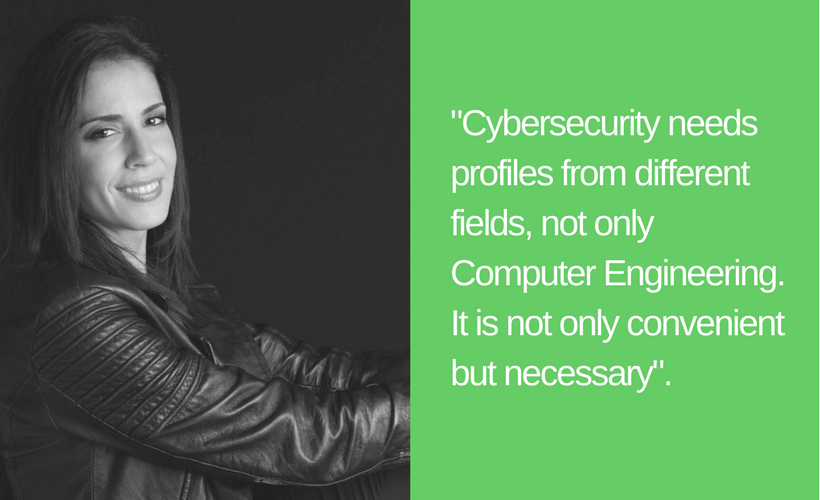 The glass ceiling disappears when determination and passion are the basis of daily work. Silvia is the best example of this and the result is that in 2007 she became an Inspector of the National Police in Cybersecurity. Since then, she has coordinated a team of agents that ensure the safety of users on the network, and also she collaborates with international groups such as EUROPOL and INTERPOL.
In addition, Silvia has taken time to bring awareness in cybersecurity to a higher level as author of the book "[Keys to Research in Social Networks] 2" for anyone who wants to understand digital communication from the point of view of computer security. As a researcher and professional of the world of cybersecurity, the interview we have done is not wasted.
Open Data Security: It shouldn't be easy to stand out in an institution like the National Police, especially in the field of cybersecurity, in which only 11% of professionals worldwide are women. What kinds of obstacles have you encountered in your years as a professional to get where you are?
Silvia: Police work, in itself, is not easy. You play your life and are exposed to complex situations, considering that you deal with alleged criminals. I came to technological research in 2006 and since then, I have not stopped working in a field that engages, motivates and in which you do not stop learning and being constantly updated.
My bosses have always trusted my work and thanks to that, we have done very good research and services. I have not encountered other obstacles than anyone else would find.
Open Data Security: To explain the scarce presence of women in cybersecurity, one study shows that 52% of them do not have any interest in computing and therefore discarded developing a professional career in this field. You are a good example of a professional who has not had to take a STEM career to become specialized in computer security, what is it that attracted you to this field?
Silvia: I have been raised among aeronautical engineers, watching the technical projects of my family members. I was excited. But sometimes life takes you in other ways. Already, in the Police, I came to cybersecurity and cybercrime when this subject was unknown and generated little interest, even at the police level. As soon as I landed in the Technology Research Brigade, I realized that it was a field as exciting as it was extensive, so I started to train because the more you know, the more possibilities open up.
I would like to emphasize that cybersecurity is a very tough field. I have dedicated and dedicate many hours a day of my personal time to self-study and research. The hundreds of posts I have written in "Internet, City with Law" in Tecnoxplora in Atresmedia and other media, my book on research in social networks, the classes I teach, the hundreds of conferences in which I have participated require a lot of sacrifice to update with self-directed or regulated education. If you want to be at a good level, you can not stop growing and learning.
In fact, in addition to continuing research at present, I am doing the Masters in Computer Security for the UNIR because I want a doctorate in Cybersecurity. With this Masters I have discovered Cryptography and I am passionate about it. The more I learn, the more excited I get.
Open Data Security: The few studies that we find about the low representation of women in cybersecurity suggest that people with social skills are needed, not only with coding skills. In your opinion and as a researcher on cybersecurity issues, what would you say to young women who, out of ignorance, have quickly ruled out a career in the world of computer security or simply do not think about it?
Silvia: Cybersecurity needs profiles from different fields, not only Computer Engineering. It is not only convenient but necessary. I am an example and I know many more women who have studied Law, Psychology, ADE, Physics, Telecommunications, Criminology, who are working as cybersecurity consultants, cyberintelligence, analysts, security management positions, doing audits, support service technical, etc. who really enjoy what they do and, above all, what they learn.
To women who are afraid to get into this world because they think they lack technical competence I would tell them to dare to enter this exciting world and that no one is born knowing everything.
In fact, of ten CVs that I have received to work in my technical group, one or none are from colleagues, so it is not only a matter of selection or opportunity but also of professional guidance.
Latest posts by Marketing
(see all)